Australia TGA Medical Device Registration Overview
Medical Devices in Australia are regulated by Therapeutic Goods Administration (TGA). The Medical Devices and IVDs shall be listed in Australian Register of Therapeutic Goods (ARTG), they are marketed in Australia. Manufacturers must appoint an Australia TGA sponsor for registering their device. Freyr has successfully helped multiple medical device companies with the Australia TGA Medical Device Registration process
Regulatory Authority: Therapeutic Goods Administration (TGA)
Regulation: Australian Therapeutic Goods (Medical Devices) Regulations 2002
Regulatory Pathway: ARTG inclusion
Authorized Representative: Australia TGA Sponsor
QMS Requirement: ISO 13485:2016 certification
Assessment of Technical Data: Therapeutic Goods Administration (TGA)
Validity of License: Registration does not expire if the annual fee is paid
Labeling Requirements: Essential Principle 13 of Schedule 1 of the Therapeutic Goods (Medical Devices) Regulations 2002
Submission Format: Electronic submission at TBS
Language: English
TGA Medical Device Classification
Medical Device classification, Australia is similar to the EU classification rules and criteria. There are different classifications for Medical Devices and IVDs. Based on the risk to the human body Medical Devices are divided into four classes in the ascending order of their risk which is class I, IIa, IIb, and III. The classification system in Australia is as per the Australian Therapeutic Goods (Medical Devices) Regulations 2002.
| | |
| --- | --- |
| TGA Medical Device Classification other than IVDs Class | Risk |
| I | Low Risk |
|  IIa | Low Moderate Risk |
| IIb | Moderate – High Risk |
| III | High Risk |
| AIMD | High Risk |
| | |
| --- | --- |
| TGA IVD Classification | Risk |
| 1 | No public health risk or low personal risk |
| 2 | Low public health risk or moderate personal risk |
| 3 | Moderate public health risk or high personal risk |
| 4 | High public health risk |
Medical Device Authorized Representative/Sponsor
The Authorized Representative is termed as Sponsor and acts as a liaison between the manufacturer and the Therapeutic Goods Administration (TGA) as mentioned in the Therapeutic Goods Act 1989 and Therapeutic Goods (Medical Devices) Regulations 2002. The sponsors will be the Regulatory representative for the product to be marketed in Australia and to register it with the TGA.
Australia Medical Device Registration
Medical Device Registration, Australia procedure and ARTG Listing procedure in Australia varies with the class of the device.
Class I devices: For Class I non-sterile, non-measuring devices, manufacturer's declaration of conformity must be submitted with the application, for the inclusion in the ARTG database. 
Other Class Devices
The sponsor must submit Australian Declaration of Conformity, QMS certification ( ISO 13485:2016 or MDSAP ), manufacturing evidence ( e.g., CE certificate ) in TGA Business service ( TBS ). Audits are mandatory for Class III (AIMD – Active Implantable Medical Devices), specified Class IIb medical devices, Class 4 IVDs and no. of specified Class 3 IVDs; unless supported by a conformity assessment from TGA or issued under the European MDR/IVDR. Post that the ARTG number will be issued. This will be accompanied by the ARTG inclusion certificate, which will be included in the ARTG database and TGA website.
Process flow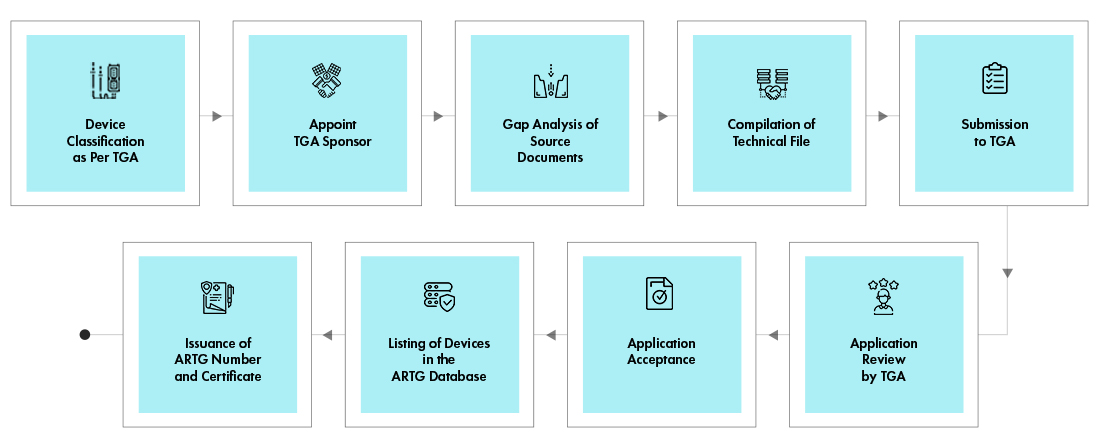 Post Approval Device Life Cycle Management
Freyr supports foreign manufacturers in end-to-end Medical Device life-cycle Management, including post approval activities, such as –
Post approval change management - modifications to existing Medical Device approvals such as, addition of new variants, accessories; addition of new indications of use among others
Maintenance of approvals and registration through timely payment of administrative and registration fees
Renewal of licenses
With a regional office in Australia and with a professional team to provide Regulatory support, Freyr supports manufacturers in maintaining quality and safety needed for approval. Freyr's intelligence experts keenly observe Regulatory updates and keep the clients informed about steps to be taken for product compliance with prevalent standards.
Summary
| | | | | |
| --- | --- | --- | --- | --- |
| Risk | Device Class | QMS Audit | Regulatory Pathway | TGA Timelines |
| Low | Class I | NA | ARTG Listing | Immediate |
| Low-moderate | Class IIa | ISO 13485:2016 compliance (MDSAP) | ARTG Listing | 230-250 TGA working days |
| Moderate-high | Class IIb | ISO 13485:2016 (MDSAP) | ARTG Listing | 230-250 TGA working days |
| High | Class III | ISO 13485:2016 (MDSAP) | ARTG Listing | 230-250 TGA working days |
Freyr Expertise
Australian Sponsor support
E-Business System account creation and management
Conformity Assessment
MDSAP Certification support including, internal audits, mock-audits, training etc.
ARTG Listing
Labeling support
Distributor identification and qualification 
Post Marketing Surveillance 
Post Approval Change Management
License renewal and transfer 
Submission and liaising services with the TGA